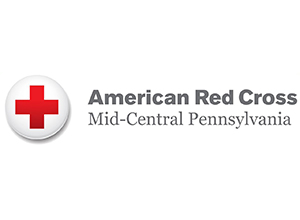 2
Prevents and alleviates human suffering in the face of emergencies by mobilizing the power of volunteers and generosity of donors in 
both Mifflin and Juniata counties.
---
Community Impact from United Way Funding
During the 2019 United Way of Mifflin-Juniata Day of Caring, American Red Cross volunteers and staff partnered with Penelec to make homes safer in Lewistown.  Home fires are the number one disaster that the American Red Cross responds to nationwide---every day, seven people across the country die in a home fire.  To combat this, in 2014, the American Red Cross launched the Home Fire Preparedness Campaign, which seeks to reduce home fire related deaths and injuries by 25%.    Penelec and Red Cross volunteers alike, went door-to-door in Lewistown and installed 165 smoke alarms and made 90 homes safer through providing fire safety education.  This work is critical; the presence of a working smoke alarm increases your chances of surviving a home fire by 50% and with less than 2 minutes to get out of a burning home, having a fire escape plan that everyone has practiced is imperative.    To date, this program has saved 715 lives nationwide.